Craig Lipset Gets Real on our Decentralized Trials Future
April 5, 2022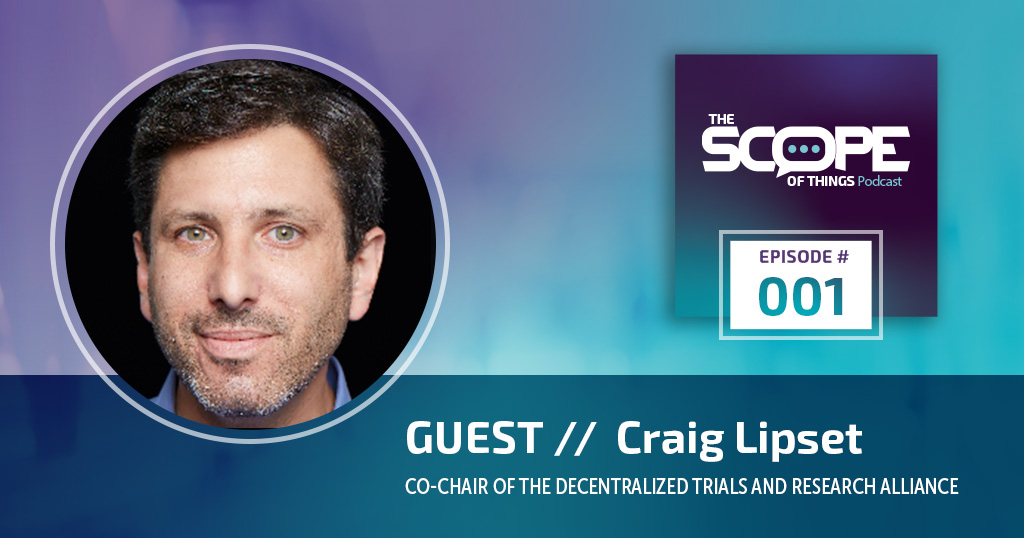 The pandemic has certainly been a turning point for decentralized trials, and Craig Lipset, co-chair of the Decentralized Trials and Research Alliance (DTRA) says the reasons are clear: the industry's risk balance has changed, he tells Deborah Borfitz, Clinical Research News senior writer and host of the new Scope of Things podcast. Now decentralized approaches to trials have become counter measures to the risky pandemic when patients couldn't travel to sites. "Decentralized" is an umbrella term, Lipset explains, that encompasses both processes and technology—not just a lot of tech. A decentralized approach will impact how and where people participate, prioritizing flexibility, diversity, and expanding accessible geographies.
---
Craig Lipset, co-chair of the Decentralized Trials and Research Alliance
Craig Lipset is a recognized leader at the forefront of innovation in clinical research and medicine development. He is the founder of Clinical Innovation Partners, working as an advisor and board member with pharma, tech and venture capital to bring vision and driving action at the intersection of research, digital solutions, and patient engagement. Craig is also the Co-Chair for the Decentralized Trials & Research Alliance, the leading non-profit collaboration focused exclusively on improving access for research participation. Craig is Adjunct Assistant Professor in Health Informatics at Rutgers University, and Adjunct Instructor in the Center for Health + Technology at University of Rochester. He serves on the Board of Directors for the Foundation for Sarcoidosis Research and the MedStar Health Research Institute, as well as on the Editorial Board for Therapeutic Innovation & Regulatory Science. Previously Craig was the Head of Clinical Innovation and Venture Partner at Pfizer, on the founding Operations Committee for TransCelerate Biopharma, and on the founding management teams for two successful startup ventures. He has been listed among the PharmaVOICE most inspiring people in the life sciences (Red Jacket hall-of-fame), Pharmaceutical Executive's Emerging Leaders, CenterWatch Top 20 Innovators in Clinical Trials, and the AlleyWatch Who's Who in eHealth.