Abbvie's Christopher Boone on Disrupting the Clinical Research Enterprise With Real-World Data
January 3, 2023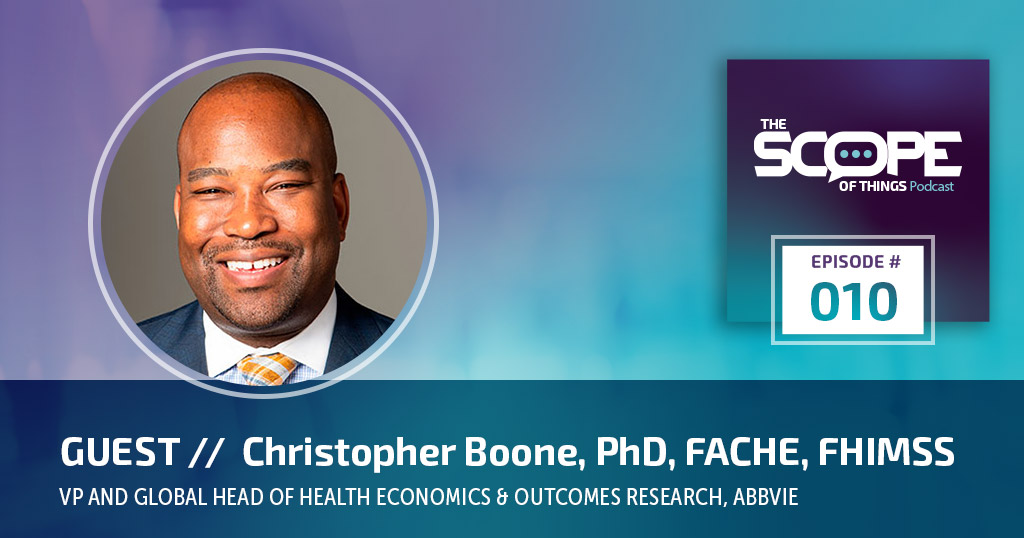 A self-described "data hippie," Christopher Boone, vice president and global head of health economics and outcomes research at AbbVie, knows a great deal about using real-world data and generating real-world evidence in clinical trials. Boone sits with host Deborah Borfitz to talk about the disruptive presence of real-world evidence within the clinical trial enterprise and how it encourages researchers to reimagine trial design from start to finish. He says, "Much of the data we care about is captured outside the walls of the provider environment… Now, with all the digital technology, you can really understand the [patient's] environment and experience in real-time."
Boone assesses how effective the industry has been in democratizing data, how the 21st Century Cures Act was "probably the single biggest catalyst" in the expansion of real-world data, the industry's transition to patient-centered research, and the systemic and cultural barriers challenging clinical studies today. He also shares tidbits from his upcoming talk at SCOPE Summit 2023 in early February.
---
Christopher Boone, PhD, FACHE, FHIMSS, VP and Global Head of Health Economics and Outcomes Research, AbbVie
Dr. Christopher P. Boone serves as the vice president and global head of health economics and outcomes research at AbbVie. He is also an adjunct assistant professor of health administration at the New York University's Robert F. Wagner Graduate School of Public Service, an active board member of several influential organizations, and a co-founder of a few start-up companies. Prior to AbbVie, he served in two different roles at Pfizer: vice president and head of global medical epidemiology and big data analysis and vice president and global head of real-world data and analytics.
Dr. Boone holds, or has held, appointments to some of the most influential national committees focused on health data and patient centricity, including the Board of Directors for Global Medical Response, the Board of Directors for the Stewards of Change Institute, the Executive Board of Directors for the Patient Advocate Foundation and the National Patient Advocate Foundation, the U.S. Department of Health and Human Services (HHS) Federal Health IT Policy Committee, the HHS National Committee on Vital and Health Statistics Working Group on HHS Data Access and Use, the inaugural advisory group for American Society of Clinical Oncologists' CancerLinQ, the Board of Directors for SHARE for Cures, the Robert Wood Johnson Foundation's Data Across Sectors for Health Initiative, and the Interoperability Committee for the National Quality Forum.
Dr. Boone earned a B.S. from the University of Tulsa, an M.H.A. from the University of Texas at Arlington, a Ph.D. from the University of Texas at Dallas, and two executive certificates from the Harvard Kennedy School. He is a fellow of the American College of Health Executives and the Healthcare Information Management & Systems Society.