Realizing The Benefits Of Bringing The Trial To The Patient
Contributed Commentary by Ashmee Bharadia, Vice President for Accellacare In Home Services, part of ICON

May 26, 2023 | During the worst days of the COVID-19 pandemic, drug sponsors, clinical sites, and patients alike discovered the value of in-home services in allowing research studies to proceed while minimizing patients' potential exposure to the virus from on-site visits. Such services were a lifeline to the research industry. Today, in-home services are being baked into trial protocols not out of dire necessity, but rather out of an appreciation for their value in supporting patient-centric trials with decentralised components.
In-home services are broader than the name suggests, as they can be performed at alternative locations including the patient's place of education and employment. While they can be used across study phases, they are most often used in Phases II and III to deliver the same standard of care that the patient would receive during a site visit. The most common activities assigned to home health workers are collecting blood samples, taking vital signs, administering the investigational product, collecting other specimens, and performing body assessments (such as measuring mobility). Accordingly, the services are useful in almost any therapeutic area, including immunology, infectious diseases, central nervous system, endocrine and metabolic disorders, oncology, and cardiovascular disease.
Patients, sponsors and sites all gain when the number and type of site visits are reduced through reliance on in-home services.
First and foremost, of course, providing services outside of the clinic lessens the burden of trial participation for patients and their caregivers since they need not travel to the clinic as often. In an Accellacare case study of 57 patients who received in-home services in a rare disease study, 61% of patients ranked the service as in the top five recommendations for reducing patient burden. The Center for Information and Study on Clinical Research Participation (CISCRP) conducted a survey between April and July of 2021 among 11,793 respondents and found that 44% rated traveling to the study clinic as "somewhat" to "very" burdensome. Interestingly, this was up from 29% two years earlier.
Reducing the need to travel also expands the opportunity for patients in remote locations who might not have had the opportunity to participate in trials, to have access to new treatment options. This also benefits sponsors by increasing the diversity of trials, something that has increasingly been on the agenda in recent years.
It follows, then, that what reduces patient burden enhances enrollment and helps sponsors maintain their trial timelines. In the same case study of Accellacare patients, 75% of respondents cited the convenience of in-home services as a key motivator for enrolling in a trial. While the CISCRP study found that, on average, enrollment is 40% faster when in-home services are offered.
Similarly, the convenience of in-home visits supports compliance with, and retention in, trials. In the CISCRP survey, 81% of respondents identified in-home services as important to remaining in a study. In one study conducted by Accellacare, the drop-out rate among patients who used in-home services was just 3% compared to 67% for those only attending site visits.
Sites, too, recognize that when compliance increases and diversity is expanded, the value of the trial is enhanced. Just as important, in-home services reduce the burden on site staff, giving them more time to focus on patient care.
Accommodating the Patient Profile
To be successful, in-home services need to be integrated into the trial design in a way that delivers a seamless trial experience for the patient – and only when and where they make sense, given the patient profile. The value of in-home services and their very feasibility will depend on a number of factors: the patients' safety profile and lifestyle, the characteristics and progression of the disease, the location of sites, the length of the study and the caregiver's involvement. (See Fig. 1.)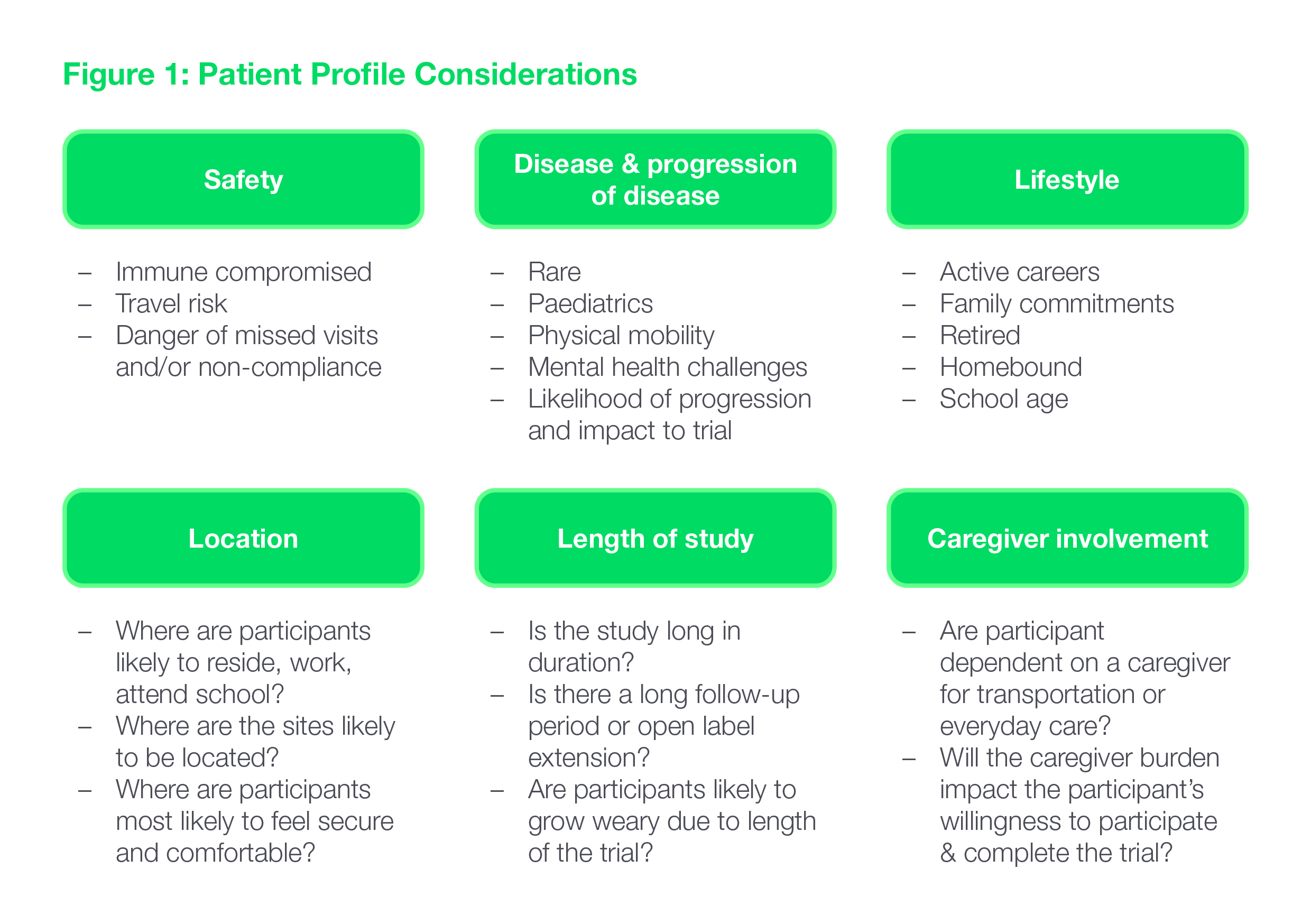 Early Planning: Study Design and Protocol
The feasibility of including in-home visits in the study design should be evaluated early in the protocol development process to avoid the need for later protocol amendments. It is helpful to raise the possibility in early consultations with Key Opinion Leaders (KOLs) and scientific advisory boards to ensure that all angles are considered. The findings of these discussions can also have a bearing on country selection and site recruitment strategies.
As the study design is being developed and vendors are being evaluated to support the study, decisions around in-home services will be influenced by:
Country regulations which not only differ from country to country, but are dynamic

The anticipated difficulty in enrolling and retaining patients

The protocol requirements, including:
The number of on-site visits and the visit windows
The assessment schedule. Can some be pushed closer together? Which ones can be performed remotely?

Visit length/duration

Logistics ranging from the feasibility of shipping sample kits to patients' homes to the need to provision nurses with any special equipment required to administer the investigational product in patients' homes.
Despite the fact that most sites are stretched for resources, many investigators are initially hesitant to delegate aspects of patient care to a second party. They worry about losing close contact with that patient, the quality of the data and the quality of the patient's care. In actuality, the physician will always retain authority and oversight of the patient's care and the in-home nurse will call the site if any concerns come up during a visit.
Solutions to help sites overcome any such resistance include:
Providing education. Often, investigators just don't realize the extent to which their own burden can be reduced. Using every opportunity – starting with site identification, through investigator meetings, the site initiation visit, and post site initiation visits – to educate them on the benefits and answer their questions can allay their concerns.

Building confidence in the home nursing staff. This can be accomplished by explaining the rigorous process used to select and train in-home nurses and by arranging meet-and-greet sessions (in-person or virtual) with the site staff and the patient to establish connections and rapport among the parties.

Ensuring transparency. Keeping the site staff apprised of appointment scheduling, reporting data promptly, and sharing any feedback from the patient is essential to increasing sites' comfort with the arrangement.

Sharing success stories. Peer-to-peer conversations are very effective in helping others feel comfortable with the practice. Sites might communicate their positive experiences through a site portal for a particular study, or the in-home provider can provide references that a site or sponsor can contact.
Patients are usually quick to recognize and appreciate the benefits of in-home services in clinical trials. While many investigators are initially hesitant to rely on external nursing staff, their acceptance can be readily won by working with the right provider with well-trained healthcare professional. With investigators "on board" with the practice, sponsors can incorporate in-home services into their clinical trials to reduce the patient burden, speed up enrollment, increase patient diversity, improve adherence, and free site resources for routine patient care.
Ashmee Bharadia is Vice President for Accellacare In Home Services, part of ICON plc. She joined ICON in 2011, working with the largest strategic account in various project management roles and as a Clinical Program Manager for cardiovascular. Ashmee started her career in progressive roles from CRA to project management across Sanofi Aventis, Schering Plough, Novartis and Amgen covering respiratory, immunology, infectious, dermatology and neurology. Previously, Ashmee also held a leadership position with a small CRO focused on developing the project management group and gained experience working with innovative start up and biotech companies. Ashmee also established a new group focused on strategic business optimization, technology implementation, and global process improvements working with the corporate and operational leadership. Ashmee holds qualifications in Lean Six Sigma and Change Management, and a BSc (Hons) in Pharmaceutical Chemistry from Queen Mary, University of London. She can be reached at ashmee.bharadia@accellacare.com.