Merck Employs Virtual Reality To Combat Burden Of Long Study Visits
By Deborah Borfitz

March 16, 2022 | As Merck recently learned, relationships with scientific leaders and outside experts can be critical to enhancing the pediatric patient experience. That was one of the take-home messages from a case study on how the company executed on a virtual reality innovation that took first place honors during Participant Engagement Award ceremonies at the recent Summit for Clinical Ops Executives (SCOPE).
As a study sponsor, Merck often mulls over how best to engage patients and produce age-appropriate educational materials to help them understand the protocol, says senior scientist Angela Caprise during her presentation at SCOPE. But for one high-profile pediatric study, it wanted to go "beyond the basics" to relieve some of the burden of participation.

The business challenges and goals of industry sponsors include having the broadest label by indication and enrolling trials on time or faster, notes Caprise. The starting point on the recruitment front at Merck is country and site selection based on factors including past performance, incidence rates, current standards of care, and number of competitive trials. Clinical directors are a "great resource" for insights, she adds, and outside vendors provide a check on internal metrics as well as provide supplemental data.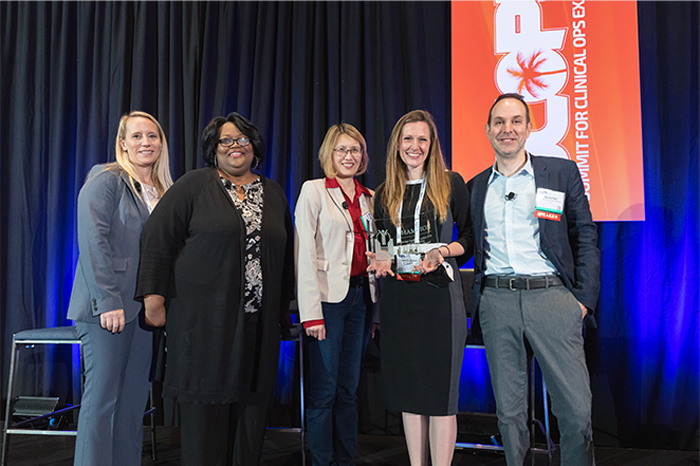 Left to right: Gretchen Goller, Senior Director & Head, Patient Recruitment Solutions & Clinical Development Operations, Seagen, Inc.; Kimberly Richardson, Research Advocate, Founder, Black Cancer Collaborative; Michelle Crouthamel, PhD, Head, Digital Sciences, AbbVie, Inc.; Gwenn Oakes, Director, Global Trial Optimization, Merck & Co., Inc.; David Sall, President & CEO, Marketing, Patient Enrollment Advisors LLC
Awareness of a trial is often built through an outsourced digital ad campaign as well as touchpoints with referring healthcare professionals, she continues. Study sites are simultaneously educated on details of the protocol to set expectations, and Merck supports them in finding the right patients and reducing some of the workload.

Scientific leaders provide input on digital and printed materials and propose other campaign tactics, says Caprise. Since protocols tend to be quite complex, clinical leaders also establish relationships with sites and serve as champions for studies. Internal teams and external vendors work collaboratively to develop meaningful content, offer support, and provide understanding of patient perspectives.
The profiled pediatric protocol enrolled participants ages 2 to 18 years old into one of four cohorts, based on their tumor type, Caprise reports. The expected survival rate in the population is two years or less—a figure that hasn't budged in three decades—and relapses are common. Merck wanted to relieve the study participation burden while meeting regulatory and commercial needs to complete the trial to extend patient life, she says.
One of the key challenges with the trial was that few sites had the capability of doing the required tumor imaging, says Caprise. Another was that patients had to be on monotherapy treatment but often prefer newer combination therapies. High caregiver involvement was also required. "Our scientific leaders often used to work in clinical practice, so they could offer a greater picture of what we were facing."

The study's visit criteria include a four-hour wait after infusion, which is especially difficult for young patients and means time away from work for caregivers, she says. Site staff are busy and don't have time to take on any additional work during this period.
Venturing Out Virtually

Brainstorming with scientific leaders turned up an assortment of suggestions for how to help combat the burden of long study visits and assist sites, says Caprise. Among the ideas that emerged during brainstorming sessions were painting rocks and then showcasing them in a rock wall or garden; having a scavenger hunt participants could look forward to at each visit; art projects such as clay modeling, painting, and drawing; providing stipends so participants could enjoy local activities around the site; and allowing them to "venture out" through a variety of virtual reality experiences.
Clinical leaders were particularly fond of the virtual reality idea, she continues. "The children are sick and may not feel well enough do certain activities, we don't want to [create] more work for our sites, and we want to engage caregivers also, so virtual reality was perfect.""
To deliver on the idea, Merck settled on a niche vendor it determined was the best fit for the job and the two sides aligned on how tasks and responsibilities would be divvied up, ensure work was performed, and an open dialogue would be maintained, says Caprise. The vendor managed the process of procuring the headsets as well as any required training at the site level and was "equally enthused about the idea... We established a great relationship through performance and trust and communication."
The menu of virtual reality experiences available to patients and caregivers during study visits included nature relaxation, beautiful destinations, nature films, guided meditation, and classical music, she says. Not all sites were able to use the headsets due to constraints on the use of shared devices and the novelty of the offering.

But as pandemic-related restrictions lift, Caprise adds, greater interest in the virtual experience activity is expected. Importantly, Merck learned the innovation can be now be used in other protocols. "We have a compliant path forward."