Solving Real Problems from the Depths of the Technology Echo Chamber
Contributed Commentary by Paul Balagot

March 9, 2021 | Much is said about how technology can transform healthcare with countless technologies being explored and used like machine learning, IoT, wearables, biosensors, natural-language processing, and digital therapeutics. The healthcare technology field is extensive and can create an echo chamber that challenges marketers to figure out how such technologies can help advance their brands—and which ones to use.
This echo chamber is pervasive; it entrances marketers to chase the latest and greatest technology before asking the critical question, "What problem are we trying to solve?"

Technology is a tool. What you want to accomplish is primary. The "how" is secondary. Whether it is helping a biotech company scale its ability to quickly answer questions for healthcare providers (HCPs) via AI-powered chatbots or understanding how wearables can help people predict and/or prevent disease, you must first crystallize the problem you are trying to solve, and then figure out how technology helps.
Start With The Desired Outcomes You'd Like To Achieve

You need to clearly determine the "what," so you can get to the "how" efficiently. By doing so, brands stay relevant and engaged with their audiences—from payers to HCPs to patients—and create meaningful behavioral change that leads to new standards of care.
When working with clients, we look at what patients and physicians are going through, as well as the various headwinds and tailwinds that influence their decision-making. We think through what the audiences' real-life experiences are. We ask what the client is providing to their customers that is generating value and making their lives easier. By mapping out these experiences, we can discover where the problems are and how technology can provide value in those key moments of interaction where problems exist.
Once we have this process mapped out and have a solution hypothesis, we pressure-test the use case to determine if it's adding real value. We create a prototype, model the technology solution, and run tests to ensure that it is intuitive and accessible, and that it will scale efficiently.
Putting the "What" Before the "How"
We had a global pharmaceutical client with products across many therapeutic areas. It was using a variety of human-powered resources to manage a wide range of medical requests—as many as 6,000 per month across a broad portfolio of therapies.
The primary way of handling these requests was through a call-center, medical science liaisons (MSLs), client representatives, and email. The client had hundreds of pre-cleared medical information letters to respond to these requests, which required human involvement in order to send the correct information. As you can imagine, the process was highly manual and took a lot of time. The client projected that these requests were only going to increase in the future, so they wanted to figure out how to lower the administrative burden, while still quickly meeting the needs of their HCP customers' medical requests.

First, we mined the different types of medical information requests coming through these normal channels, and we used data visualization tools to better understand the context of the requests. Figure 1 represents the results of that mining exercise. Each color cluster represents a unique topic that was further refined by brand and question volume. Having this data visualized, enabled us to assess what topics could be answered systematically and which ones required human intervention.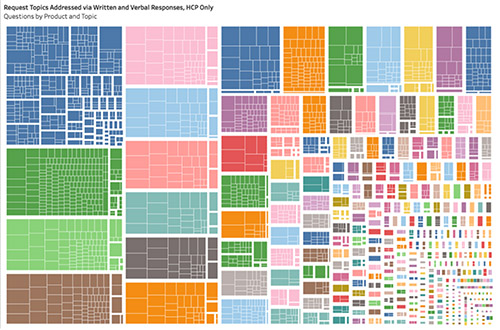 We found something surprising: 80% of the requests were simple and straightforward in nature (e.g., questions that didn't require human support to answer). This meant that eight out of 10 times, the client could address an HCP's question in an automated fashion if they could get the right letter to them. It did not require, for example, an MSL to get on the phone and go into greater detail with a physician. This was a huge insight for both us and the client.

We implemented a technology solution with a strong search API (essentially, a website/google-like search engine for HCPs), with natural language processing capability and a back-end AI solution that identified the intent of the HCP's question and served up letters to account for that issue.
That's it. That's the "how." The technical piece of this article is all of 44 words out of a 930+-word article.

Although we launched a new service, we didn't take away any of the existing channels HCPs were using. And we communicated the new resource, and let HCPs choose how they wanted to engage with our client. Over time, the significant increase in the amount of traffic to this website made it clear that these HCPs had a need for this kind of service. It solved their problems, and it saved time. Since the launch of this service earlier this year, we've logged tens of thousands of interactions from both HCPs in the U.S. and outside the U.S. The engagement has been so successful that the client is now looking to expand the service to six other countries.
This is only one example of how to respond to the needs of HCPs and to improve their experience. As technology, computing power, and AI continue to improve, we believe we can get a point where we can become more proactive in terms of helping to improve the HCP and patient experience.
Paul Balagot is Chief Experience Officer at Boston-based PRECISIONeffect, which also has offices in Los Angeles and London. It is the nation's only healthcare advertising agency dedicated to working with companies seeking to change the standard of care. He can be reached at paul.balagot@precisionvh.com.