Participant Engagement Award Winners Named At 2017 SCOPE
By Clinical Informatics News Staff
February 13, 2017 | Patient engagement has been a touchstone at SCOPE for a few years now, and for the first time, the event has formally recognized community patient engagement efforts.
Cambridge Health Institute (CHI) and Patient Enrollment Advisors named the 2017 SCOPE Participant Engagement Award winners live in Miami during a live presentation and judging process. The 2017 award has been dedicated to the honor and loving memory of Jerry Matczak from Eli Lilly and Company.
The awards program was designed to inspire innovation and recognize efforts to change how the industry communicates with participants in the fields of recruitment and retention for clinical trials. Program entries were received and considered by a panel of judges; seven 7 finalists were chosen than all exhibited outstanding contributions to the field.
Those seven finalists presented their programs during SCOPE, and a panel of three judges—David Sall, President & CEO, Patient Enrollment Advisors; Jean-Christian Philippi, Founder and Chief Strategy Officer, One Creative Group; and Mark Sloan, M.D., Hematology & Medical Oncology, Boston Medical Center—asked live questions, and named the winners.
"The entries this first year were incredible," said Micah Leiberman, Executive Director, Conferences, Cambridge Healthtech Institute. "These are the teams bringing creativity and ingenuity to change clinical trials and engage the most important player: participants!"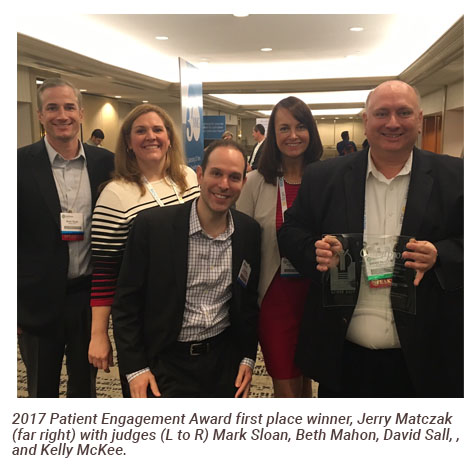 The Winners
First Place: aBuzz aBout Clinical Trials
Jerry Matczak; Eli Lilly and Company
Which generation is least educated about Clinical Trials? Millennials, with only 21% of age 18-34 reporting they are very informed about clinical research, according to CISCRP 2015 Perceptions & Insights Studies. Instead of piling on our Millennial friends for their naivety, we decided to do something about it. We went where the cool kids are, and partnered with Buzzfeed to raise awareness of clinical trials and drive traffic to Lilly's on-line clinical trial hub, Lilly TrialGuide. Buzzfeed's digital marketing savvy, social storytelling capability, robust digital channels and contemporary audience led to success measured in views and click throughs from a largely untapped audience.
We partnered with Buzzfeed's creative types and navigated Lilly's internal legal, communication and stakeholder matrix to create the 12 Things You Didn't Know About How Medicines Get Approved listicle. In a little over a month of Buzzfeed promotion, the piece received over 166,000 views and delivered over 3,500 click outs to Lilly TrialGuide—21.4x Buzzfeed's clickout goal! Our snappy little Buzzfeed piece was twice as likely to reach readers 18-34 than other Buzzfeed audience demographics. Great success!!
Second Place: OWL-TELL-YOU Interactive Voice Response Consent and Retention Solution for Pediatric Studies
Angela Radcliffe; FCBVIO
"Why is the sky blue? Why do we have belly-buttons? What is cancer?" Children have a million questions. Meet the all-knowing pediatric study owls, Henry & LuLu, who provide friendship and answers to children in pediatric clinical trials. These wise owls utilize smart speaker technology that pairs "conversational user interface (UI)" with visual storytelling, mobile app based activities and much more. Henry and Lulu can engage, educate and delight children and their families throughout the clinical trial experience from consent to completion. These adaptable feathered friends can serve as study or condition-agnostic teachers in a wide range of pediatric settings. 
The consent/assent process can be lengthy yet it is the most ideal time to educate both child and parent, setting the stage for well-informed study participation. Henry & LuLu will allay the fears of a child and the next steps in their journey to be healthy. By anticipating the inquisitive nature of children, we can help them learn what to expect and give them a voice in the process.  Through the use of conversational UI via the Amazon Echo, we can pair a Bluetooth enabled plush owl toy, printed storybooks, app with games, videos and other content in a comprehensive suite of communication touch points. Henry & LuLu become trusted companions through the clinical trial journey, evolving from a comforting friend and teacher during consent, into a storyteller and playmate during participation and retention. 
Third Place: Consent+
Melissa Harris; Langland
A set of simple one-minute animations for patients thinking about joining a clinical study that help bring the informed consent form (ICF) to life. Why? Because a better informed patient is a happier study participant. And this means faster patient recruitment and fewer dropouts leading to time- and cost-savings. 
We wanted to help patients make a better-informed decision about study participation, and this meant giving them clear expectations. Traditionally, this has been done by trying to improve the informed consent form itself. For example, by adding headings or white space to make it easier to read. Consent+ takes this one step further. Taking a study protocol, we produce friendly and engaging animations, each film carefully crafted to ensure that scary or sensitive subjects, like blood draws or tanner staging, are dealt with in a delicate and carefully-considered manner. With films translated into 45 languages to date, Consent+ has made studies accessible globally. The intended result? Better-informed patients, fewer drop-out rates and increased adherence to study protocols, all leading to time- and cost-savings.